Invisalign® in Ottawa
Our Ottawa dentist offers Invisalign® clear aligners as an alternative to metal braces for patients looking for orthodontic treatment.
---
What is Invisalign®?
Invisalign® is an orthodontic treatment that uses clear aligners when straightening teeth.
How is Invisalign® different from regular braces?
Invisalign® aligners are created after your dentist takes impressions of your teeth.
These aligners are created to move your teeth in small steps to a final position. Each patient will have a customized treatment plan based on their orthodontic needs.
Invisalign® in Ottawa: Reasons to Consider
Aligners are made from clear plastic, and fit over your teeth during everyday activities
During Invisalign® treatment you are still able to enjoy your favourite foods. Remove the aligners to eat, and place them back into your mouth when you are done.
You can remove your aligners to brush your teeth, and floss
Invisalign® treatment length depends on your customized treatment plan.
After your Invisalign® treatment is completed, you may be recommended retainers to help maintain your new teeth positioning.
What happens when I start treatment?
When you start treatment, our dentist and the team will take impressions of your smile. These impressions are used to create Invisalign® aligners. These aligners are used to shift your teeth to your orthodontic goals.
Every two weeks, patients trade in their old aligners for new aligners. We ask that our patients visit us once every 6 weeks so that your dentist can monitor your progress.
After you have gone through your aligners, and your treatment is complete, you no longer need to wear your Invisalign® aligners.
Ask our team about booking an Invisalign® consultation with our Ottawa dentist.
---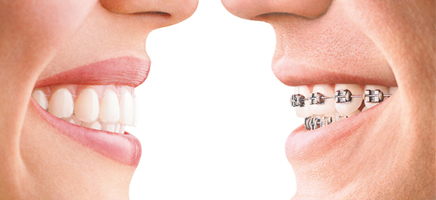 ---
Clear braces solution for patients in Ottawa looking to straighten their teeth without metal braces.